Players of the Pine Belt: Morgan, Braves ready for next step at South Jones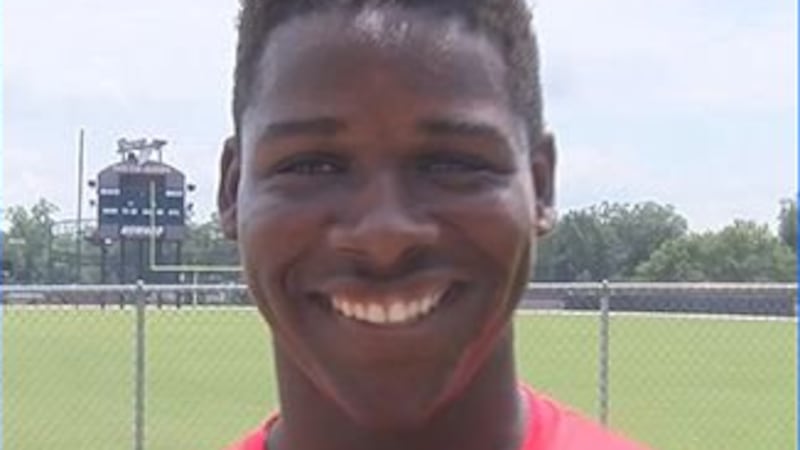 Published: Aug. 5, 2017 at 12:42 AM CDT
ELLISVILLE, MS (WDAM) - Last fall, South Jones High School may have owned one of the best records in Mississippi prep football not to make the state playoffs.
Defensive end/offensive guard JaMichael Morgan and his fellow Braves want to change that this year.
"We can't wait for the first game," Morgan said of the an Aug. 18 road trip to Sumrall High School. "We plan on making it farther than we did last year. It's going to take hard work and dedication like it does every year, but we're excited."
Morgan, a 6-foot-2, 250-pound senior will be one of three Braves, including defensive end/tight end Kameron Flowers and linebacker/tight end Jason Jarrell, who will be in the starting lineup for the fourth, consecutive season.
"They all started as freshmen, and they were not ready," said South Jones coach Cory Reynolds, who will be entering his fourth season at the helm. "They just got in and got after it, took their lumps and then figured out a way to get better.
"That's what is going to make those guys have a special year this year because it seems like they've been here forever and I'm going to cry when they graduate."
Morgan, who started playing organized football in the fifth grade, said the play of the defensive line first attracted him to the game.
"I played running back once in my life," Morgan said. "I played running back and defense when I first started. But I started playing football because of the defensive line. I always loved hitting the quarterback."
And much like the Braves over the past three years, Morgan has only gotten better.
"His attitude is what makes him," Reynolds said. "He's always got a smile on his face. He's the hardest working guy in the weight room. He's one of the last ones out of locker room making sure that it's clean and straightened up. At practice, he's working.
"There's some folks you've got to pull and drag to make them work hard, and then there's others who just come in and they're your leaders. They're the bell cows. They set the standard. You're fixing to get behind them or you're fixing to get run over. That's JaMichael."
In 2014, South Jones won just once. In 2015, the Braves improved to 7-5 and then finished 8-4 last year.
But South Jones failed to earn a spot in the Class 5A playoffs, coming up short down the stretch. In 2015, the Braves started 7-2 before finishing 7-5. Last year, the Braves came out of the gate winning six of their first seven games before a 2-3 finish bumped them from a playoff spot.
"You've gotta play, but you've gotta finish," Reynolds said. "We had a great season (in 2016) from a lot of people's point of view, but from ours, we left a lot out on the field. The year before, it came down to the last game, and we were up 14-0 the whole game, and we end up getting beat 16-14.
"We've been right on the doorstep. We've had two good years, two winning seasons, but we haven't been to the playoffs, and you can't win a championship unless you get in the playoffs. So, for us to have a chance for anything, we have to get in the playoffs and that's our goal this year."
South Jones lost its Swiss Army knife-of-a-leader, Will Mitchell, who played quarterback, receiver, defensive back and punter last season. Defensive line leader Jacob Bradley graduated, as did the Sasser twins, Steven and Ryan, who helped anchor the defensive backfield.
But the Braves have solid nuclei returning on both sides of the football.
Junior quarterback John Mitchell, Will's younger brother, is back after a Job-like 2016. The younger Mitchell was slated to start under center before injuring his shoulder on the final snap of the final Saturday preseason practice. He missed the season opener, returned for the next two games, fractured his leg against West Harrison before making it back for the final two, regular-season games.
Joining Mitchell in the backfield will be one of 2016's top rushers, senior Ricky Boleware.
The Braves welcome back three starters on the offensive line, as well as defensive standouts in senior defensive end Terrell Keys and defensive back Shiwon Lovett.
"So, we've got a good core," Reynolds said. "We do. We've just got to get other people around them to do what we need to do.
"We're going to be fine if can just stay healthy, like 99 percent of everybody. Your starters are starters for a reason, and your backups are backups. But if we can stay pretty healthy and not get nicked up, we should compete in every game."
Morgan said he and the other players want to see South Jones continue to take steps forward.
"We've come a very long way, people just don't understand," Morgan said. "We're more in shape. We're stronger.  We've got more experience. It's everything. It's all part of Coach Reynolds' coaching.
"But we want to do well. It's our team, not the coaches' team. It's going to be up to us."