USM's Hopson looks for next step forward this spring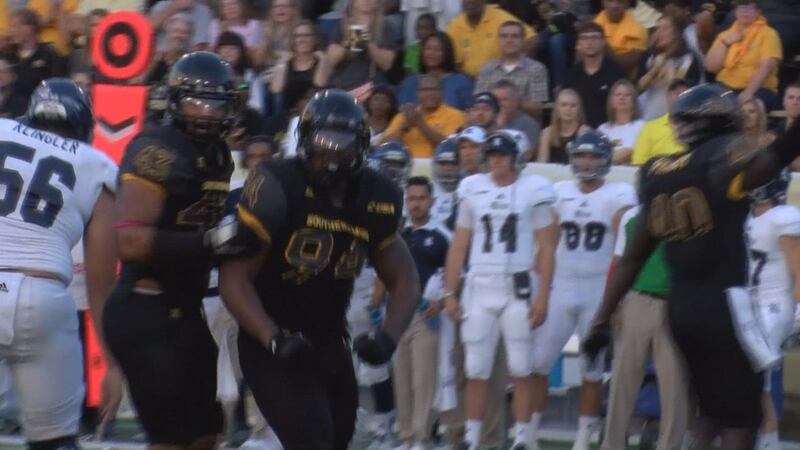 Updated: Mar. 17, 2017 at 4:34 PM CDT
HATTIESBURG, MS (WDAM) - University of Southern Mississippi football coach Jay Hopson found much to like about his first season at the helm of the Golden Eagles.
USM posted a 6-6 regular-season record in 2016, earning a second consecutive bowl berth and posting the program's first postseason victory since 2011 with a 28-21 win over the University of Louisiana-Lafayette in the R&L Carriers New Orleans Bowl.
"We also beat a SEC team (that finished) with a winning record for the first time in 26 years," Hopson said of a come-from-behind victory at the University of Kentucky to open the 2016 season. "You have to go back to Auburn in 1990 or Alabama that same year for the last time, so that's a positive. A winning season, that's a positive. Winning a bowl game for the first time in five or six years, that's a positive."
The Golden Eagles also claimed three wins over teams with .500 or better records, two more than the 2015 team that won nine games but beat only one team with a winning record.
"We also finished in the top 21, statistically, on offense and defense," Hopson said. "Very rarely do you do that on both sides of the ball. Usually, you have a good defense, and your offense is kind of ugghh, or your offense is great and your defense is kind of ugghh."
With spring practice opening Tuesday, Hopson not only hopes to at least replicate, if not improve, on the positives, while minimizing if not eliminating the negatives that repeatedly hurt the Golden Eagles.
The most toxic area: USM finished 125th among the Football Bowl Subdivision's 128 programs in turnover margin.
"Way too many turnovers, and we gave up way too many big plays," Hopson said. "Those will be the things that you'll see us really harp on and concentrate on. Those two things go hand in hand. At one time, I think, we were the worst in the nation in turnovers, and it's a miracle that we won seven games when you're leading the nation. That's what we have got to get better at, ball security."
The Golden Eagles are expected to practice three times a week leading up to the April 22 spring game.
About The WDAM 7 Gametime App:
The WDAM 7 Gametime app is bringing you the latest on Pine Belt sports.
The app features up to the minute scores for games, video highlights from local games, in-depth interviews with coaches, and updated schedules for your convenience.
Interact with us by sending us your pictures from local games or by joining us in conversation on social media.
You can also get the latest on Southern Miss football, Mississippi sports, SEC, NFL, and Saints coverage.
Download now, it is Gametime in South Mississippi!
Apple users can download The WDAM 7 Gametime app here.
Android users can download The WDAM 7 Gametime app here.