Hattiesburg-Laurel Regional Airport to host TSA PreCheck® enrollment event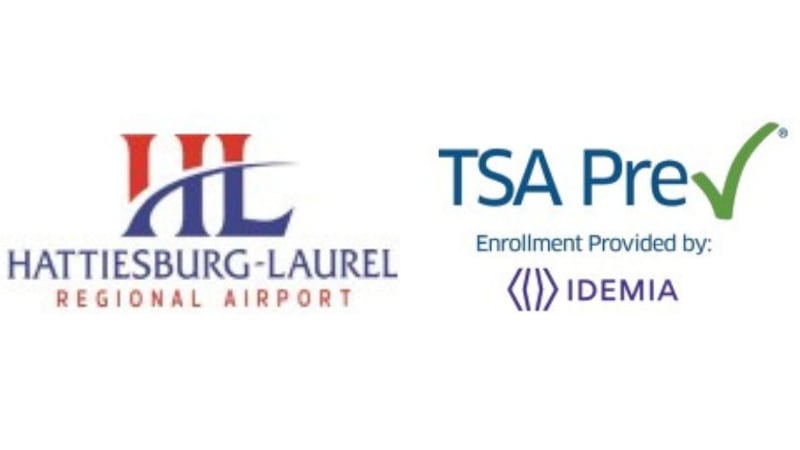 Published: Nov. 21, 2023 at 12:28 PM CST
MOSELLE, Miss. (WDAM) - The Hattiesburg-Laurel Regional Airport will host a TSA PreCheck® enrollment event next week.
Starting on Monday, Nov. 27, PIB will allow travelers to enroll at the airport through to Dec. 1.
The event is being done in collaboration with IDEMIA, a TSA PreCheck authorized enrollment provider, as the program is open to U.S. citizens, U.S. nationals and lawful permanent residents.
According to PIB, the enrollment process is quick, convenient and even faster when the application is completed online beforehand.
The in-person enrollment requires that applicants provide proof of identity, proof of citizenship, and electronic fingerprints and a photo will be taken during the process. IDEMIA offers TSA PreCheck enrollment for $78 and if approved, travelers get a five-year membership with the program.
Following the in-person enrollment appointment, PIB said most applicants will receive their Known Traveler Number (KTN) in three to five days. The KTN number must be added to flight reservations to enjoy TSA PreCheck benefits.
PIB said enrolled members do not need to remove shoes, laptops, 3-1-1 liquids, belts or light jackets. They also have access to TSA PreCheck dedicated screening lanes nationwide at over 200 participating U.S. airports.
If you cannot make the Hattiesburg-Laurel Regional Airport's enrollment event but are still interested in enrolling in TSA PreCheck, please complete the application online and schedule an appointment at one of TSA's 560+ enrollment centers nationwide.
Want more WDAM 7 news in your inbox? Click here to subscribe to our newsletter.
Copyright 2023 WDAM. All rights reserved.