'His life mattered': Funeral held for Dexter Wade, man killed by off-duty JPD officer
Published: Nov. 20, 2023 at 11:03 AM CST
JACKSON, Miss. (WLBT) - A nationally known civil rights activist, TV and radio host says he's going to fight for the prosecution of anyone involved in the alleged cover-up of Dexter Wade's death.
About 200 people turned out Monday for the funeral of Wade, a 37-year-old father of two who was run over and killed by an off-duty Jackson police officer on March 5.
His mother, Bettersten, wasn't informed of her son's death until August, despite the Hinds County Coroner's Office confirming his identity by March 8.
The funeral was held at New Horizon Church International. Rev. Al Sharpton delivered the eulogy. Sharpton and the National Action Network helped pay for Wade's funeral expenses.
"That could have been my son. That could have been your son," he said. "If you think you can put him on a shelf and bury him in a potters' field like he didn't exist and we wouldn't do [anything] about it, you are sadly mistaken."
"His life mattered to his mama, to his daughters, and we're going to make it matter all over this country."
Others in attendance included Rep. Bennie Thompson, Hinds County District Attorney Jody Owens, District 3 Supervisor David Archie, and Ward 3 Councilman Kenneth Stokes. Stokes was the only representative from the city present.
For her part, Bettersten thanked Sharpton and others who helped make her son's funeral possible. "When this battle started, I started myself. I started on that path trying to find Dexter. I begged Dexter to come home," she said, fighting back tears. "Dexter, you made it home."
Wade was run over by an off-duty officer on the night of March 5 on I-55 South just south of McDowell Road. Wade was said to be walking on the interstate when he was hit. The officer, a more than 10-year veteran with the Jackson Police Department, was on his way home.
An independent autopsy revealed Wade was carrying a government-issued ID. He also had a prescription drug bottle, which the coroner's office used to obtain contact information for Bettersten, Wade's next of kin.
Ben Crump, a national civil rights attorney helping with the case, said the coroner shared Bettersten's contact information with JPD on March 9. Bettersten filed a missing person's report days later on March 14. It would take another 172 days for police to inform her that her son was dead.
By then, he had been buried for weeks under marker No. 672 at the county's pauper's burial ground in Raymond. He was exhumed last week. Bettersten and other family members were supposed to be present for the exhumation, but the county dug up Wade's grave hours before relatives arrived.
Bettersten maintains detectives didn't tell her about her son's death because she was already suing JPD for the death of her brother, George Robinson.
According to that suit, Robinson, who was released from the hospital days earlier after having a stroke, was pulled out of his vehicle and slammed into the ground by JPD officers. One officer has since been convicted in that case. The charges against two others have been tossed.
"Are you mad because his mother stood up to the police department about [her] brother? Is this some kind of revenge? Is this some kind of, you freak out and didn't know what you did?" Sharpton asked. "Whatever it was, tell it to the judge."
In what was a fiery, 17-minute speech, Sharpton invoked the name of Tyre Nichols, a Black man who was beaten to death by several Memphis police officers early this year.
"We hear that the off-duty policeman is Black. That might be true. It was three Black cops that beat Tyre Nichols in Memphis... and we went there [and] they're all under indictment," Sharpton said. "I don't care if he's Black or white. What he did is wrong."
"In fact, I'm more offended that you're Black, because you wouldn't have done that to a young white man."
NBC reported in November that one of the former Memphis police officers involved in Nichols' death pleaded guilty to federal charges. Four others have yet to do the same.
Prior to Sharpton's speech, Crump compared Wade to George Floyd and Ahmaud Arbery. Floyd, a Black man, was killed by white police officer Derek Chauvin back in 2020. Arbery, a 25-year-old Black jogger, was killed in a racially motivated hate crime in Georgia.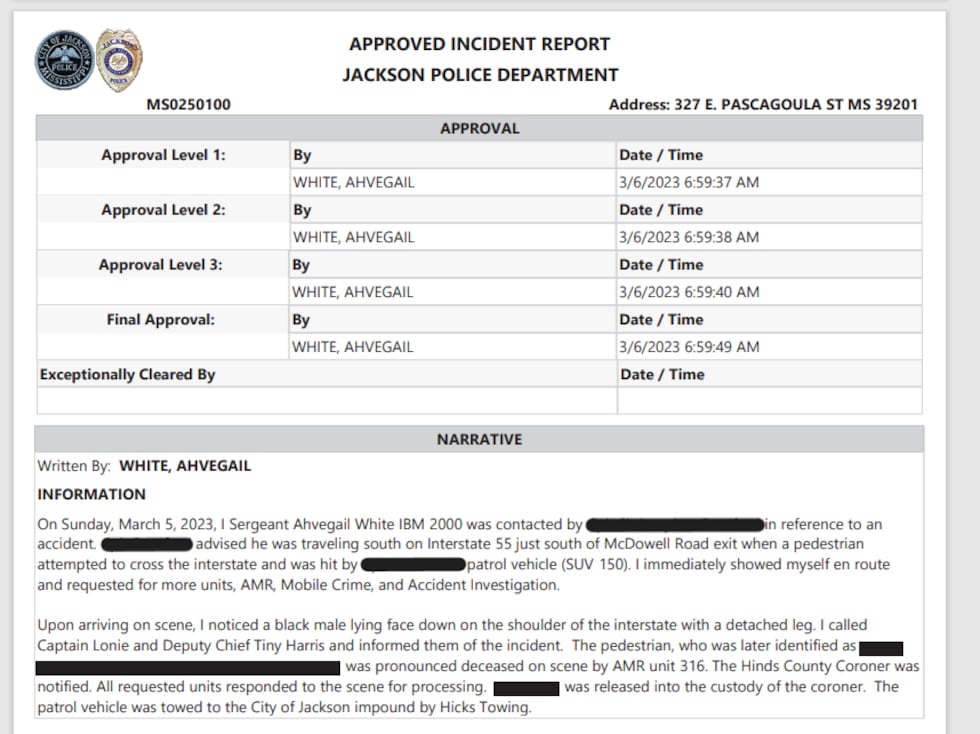 No evidence obtained by WLBT shows the officer who hit Wade did so deliberately or attempted to cover it up. Accident reports show the officer reported the incident and remained on the scene until after a report was taken. His vehicle also was towed to the city's impound lot for processing.
Reports also show that AMR, the department's Mobile Crime Unit, and Accident Investigation Unit were called to the scene.
WLBT has attempted to obtain a copy of the accident reconstruction. However, the city denied that request under state statute and is promising to prosecute anyone who attempts to obtain the document fraudulently.
"Because of the nature of the news and blog outlets requesting this information, we have chosen to inform any persons requesting this information of the requirements and penalties under our state law, with regard to fraudulently obtaining these documents," wrote City Attorney Catoria Martin.
Mississippi code states that accident reports "shall be for the confidential use of the department" and may only be disclosed upon the written request of the person or persons involved in the accident, the spouse or next of kin of any person involved, or anyone who has a claim against them as a result of an accident.
Anyone who attempts to obtain the reports in a fraudulent manner can be charged with a misdemeanor, according to a statute provided by Martin.
For Bettersten, she says the work to get justice for Dexter is just beginning, and that she's fighting not only for him but for his daughters, Jaselyn and Johnelle.
"Just keep fighting with me, because it's not over yet," she said. "We're just letting Dexter go home and walk around with his father on the golden street."
Investigative Reporter C.J. LeMaster contributed to this report.
Want more WLBT news in your inbox? Click here to subscribe to our newsletter.
See a spelling or grammar error in our story? Please click here to report it and include the headline of the story in your email.
Copyright 2023 WLBT. All rights reserved.