Jones College women's soccer reaches national semifinals _ again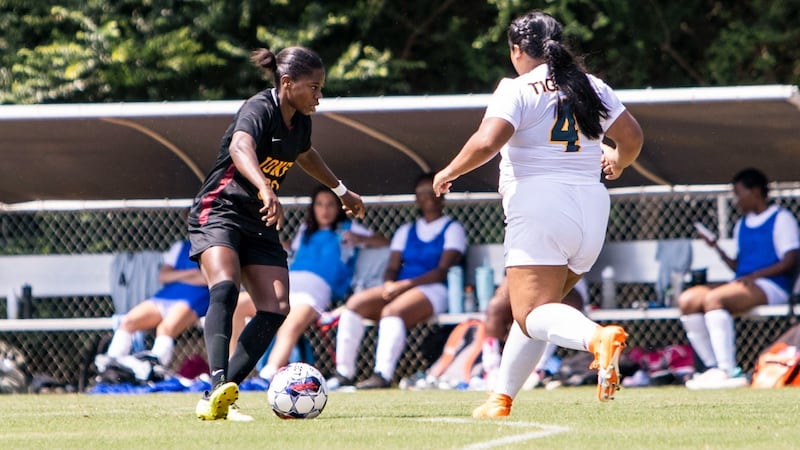 Published: Nov. 16, 2023 at 1:01 AM CST
From Jones College Sports Information Department
TUCSON, Ariz. (WDAM) – For the third time in four seasons, Jones College is headed back to the National Junior College Athletic Association Division II Women's Soccer Championship semifinals.
Behind a pair of Celine Ottah goals, the Lady Bobcats blanked Norfolk (Neb.) Northeast Community College 2-0 Tuesday night to win Pool D.
Ottah scored the first of her two goals in the 10th minute of the game and Jones would never relinquish the lead.
She added her second in the 53rd minute, heading it off the bounce over Lady Hawks keeper Hannah Thornell.
Jona Hennings stopped the three shots she faced to earn her 13th victory.
The Bobcats owned a 13-8 shot advantage, including 9-3 on goal.
Jones (15-1-1) will meet intra-state rival Holmes Community College (19-2) at 1:30 p.m. Thursday
The winner of the Mississippi semifinal moves on to the national championship game.
Live video and live stats can be accessed through jcbobcats.com.
Phoenix College will meet Overland Park (Kan.) Johnson County Community College in the other national semifinal at 11 a.m. Thursday.
Want more WDAM 7 news in your inbox? Click here to subscribe to our newsletter.
Copyright 2023 WDAM. All rights reserved.