Late-game heroics keeps Ole Miss' College Football Playoff dreams alive
Published: Nov. 5, 2023 at 11:29 AM CST
OXFORD, Miss. (WLBT) - Winning nail-biting, thrilling games is becoming a new trend for head coach Lane Kiffin and the number ten-ranked Ole Miss Rebels.
After taking a break from the late-game dramatics with a convincing win against old foes Vanderbilt, the Rebels played with the emotions of the Ole Miss faithful once again with yet another dramatic finish. This time, it came via a blocked game-tying field goal by a Canton native with just two seconds left on the game clock.
With the win, the Rebel's first-ever playoff appearance dream is still alive, and with help from Alabama's remaining opponents, Ole Miss controls its own destiny to the college football promised land.
Dart back on board in the passing game
It's been a rough few weeks for the Ole Miss passing game in the lead-up to the SEC thriller.
Quarterback Jaxson Dart and the Rebels have leaned on performance sophomore sensation running back Quinshon Judkins and the rushing attack, specifically in their games against Arkansas and Auburn.
However, the air attack found its wings again and the offense as a whole was much more balanced. Three Judkins' touchdowns also help, with the All-American rushing for 109 yards on 23 carries.
Dart put together his best performance against Texas A&M on Saturday since the LSU game on September 30, completing 24-of-33 for 387 yards, two touchdowns, and zero interceptions.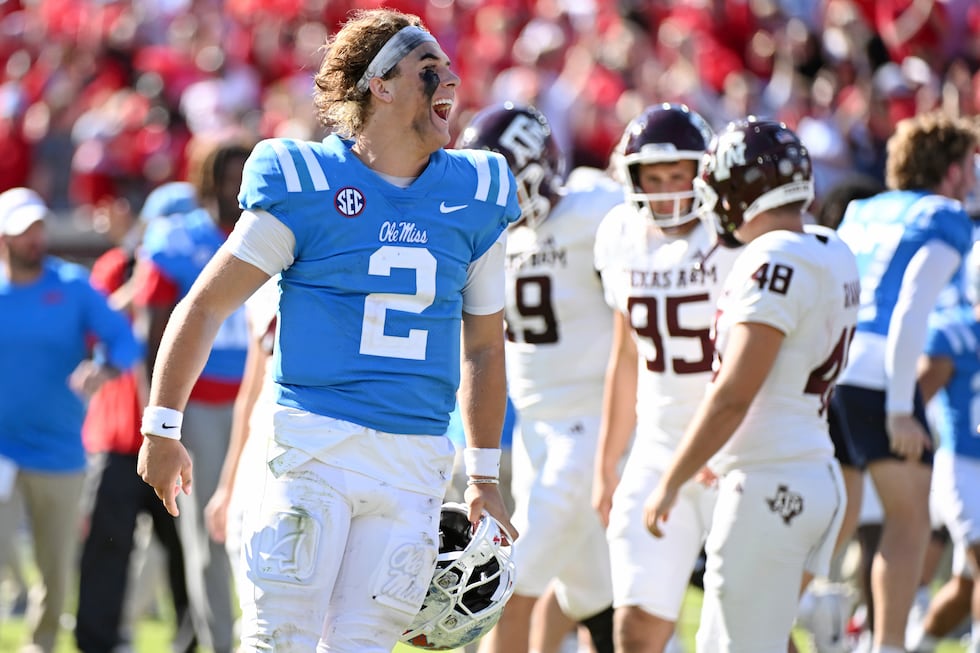 "I thought he was fabulous. [Texas A&M's] statistically... they're the best defense in the country with negative plays and sacks, third downs," Kiffin said. "That was a really hard defense to play that well against and take care of the ball. Awesome game by Dart, and obviously, Tre showed up today."
In the two games prior, Dart threw two touchdowns along with two interceptions.
Harris' highlight performance
Wide receiver Tre Harris has been a consistent weapon all season, and when the Rebel passing game needed a lift, he accepted the call. Just last season, he was playing for Louisiana Tech.
Of Dart's 387 passing yards on Saturday, Harris claimed 213.
He was Dart's go-to guy and put up a highlight reel that fans won't soon forget.
His 11 catches and 213 yards on Saturday nearly doubled his career single-game records.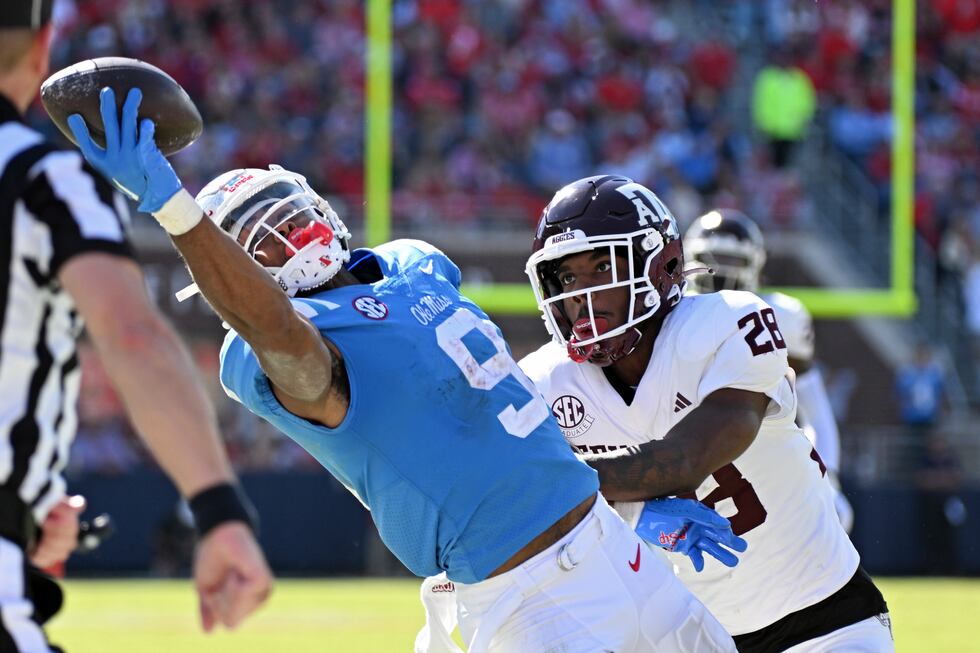 "We thought [Tre] had the matchup that would help us in our favor," Kiffin said on Harris' big day. "Inside, people really struggle with him and one-on-one outside. Trey made some great plays."
A football program that has been spoiled with riches at the wide receiver position in recent years, Harris' performance against the Aggies arguably put his name amongst the likes of DK Metcalf, AJ Brown, Laquon Treadwell, Elijah Moore, etc... in Ole Miss folklore.
Timely stops
Judging by the recent success, Saturday was a disappointing day for the new-look Ole Miss defense.
Kiffin, defensive coordinator Pete Golding, and the defensive staff have put together a formula that allows Ole Miss to win these close games now, something Kiffin has struggled with during his tenure in Oxford.
When the Rebels need a stop, they get it now. It's something Ole Miss can now hang their hat on and has relied on in four of the last five games, with those contests ending with the Rebels winning by one score.
With two seconds on the game clock and Vaught-Hemmingway Stadium rocking as Texas A&M attempted a game-tying 47-yard field goal, Canton native and former Germantown High School star Zxavian Harris provided a game-sealing block for the Rebels.
"I was just trying to mess with their kicker," Kiffin said jokingly. "You can't call back-to-back timeouts anymore. So I pretended and said to the ref right in front of the kicker that I had one more timeout. I don't know that that worked... but that's what I was doing."
Now, the 8-1 and number ten-ranked Rebels set up an ESPN College Gameday highlighted matchup against the two-time defending national champion Georgia Bulldogs this upcoming Saturday in Athens, Georgia.
The kick-off time has not been announced.
Want more WLBT news in your inbox? Click here to subscribe to our newsletter.
See a spelling or grammar error in our story? Please click here to report it and include the headline of the story in your email.
Copyright 2023 WLBT. All rights reserved.