Two former Mississippi State Bulldogs win World Series with Rangers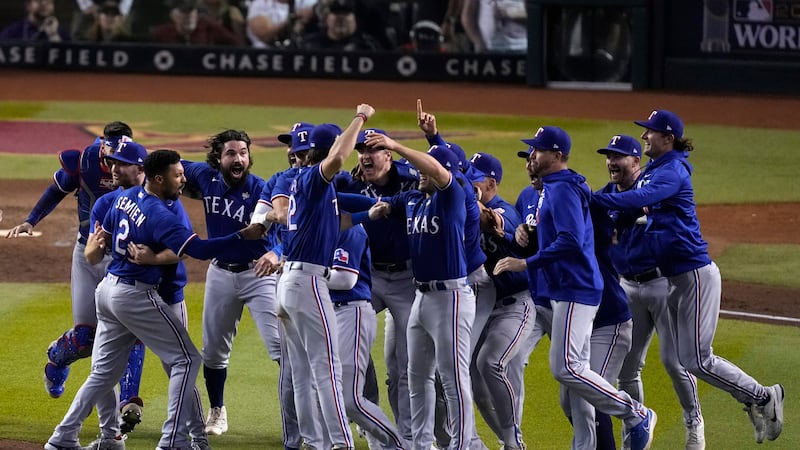 Published: Nov. 2, 2023 at 2:57 PM CDT
JACKSON, Miss. (WLBT) - Two former Mississippi State baseball players are now World Series champions after the Texas Rangers beat the Arizona Diamondbacks in Game 5 of the 2023 MLB World Series Wednesday night.
Starting first baseman Nathaniel Lowe and relief pitcher Chris Stratton are on top of the baseball world as their contributions helped the Rangers win their first-ever World Series.
Lowe recorded a hit in games three, four, and five of the World Series. The Rangers won every game in which Lowe recorded a base hit.
Stratton pitched 0.2 innings out of the bullpen in games two and four, allowing a run and just one hit in both games.
The World Series-winning first baseman was a member of the 2016 SEC Regular Season champion Bulldogs team and had a batting average of .348, 86 hits, and 49 RBIs.
Stratton was a member of the Mississippi State baseball program from 2010-2012 and was on the team that won the 2012 SEC Tournament.
The Tupelo native posted his best season on the mound in 2012, winning 11 games out of 12 starts and allowed 2.38 earned runs and recorded 127 strikeouts.
Want more WLBT news in your inbox? Click here to subscribe to our newsletter.
See a spelling or grammar error in our story? Please click here to report it and include the headline of the story in your email.
Copyright 2023 WLBT. All rights reserved.