Suspect charged in connection to deadly weekend shooting at 195 Fruitland Park
Published: Nov. 2, 2023 at 10:06 AM CDT
PINE BELT, Miss. (WDAM) - A suspect is in custody for their involvement in the shooting death of a woman at a lounge on the Forrest/Stone County line this past weekend.
The Forrest County Sheriff's Office said they have arrested and booked 23-year-old Montrell Malik Quinn II of Hattiesburg, into the Forrest County Adult Detention Center on Wednesday.
According to the sheriff's office, Quinn is being charged with attempted aggravated assault.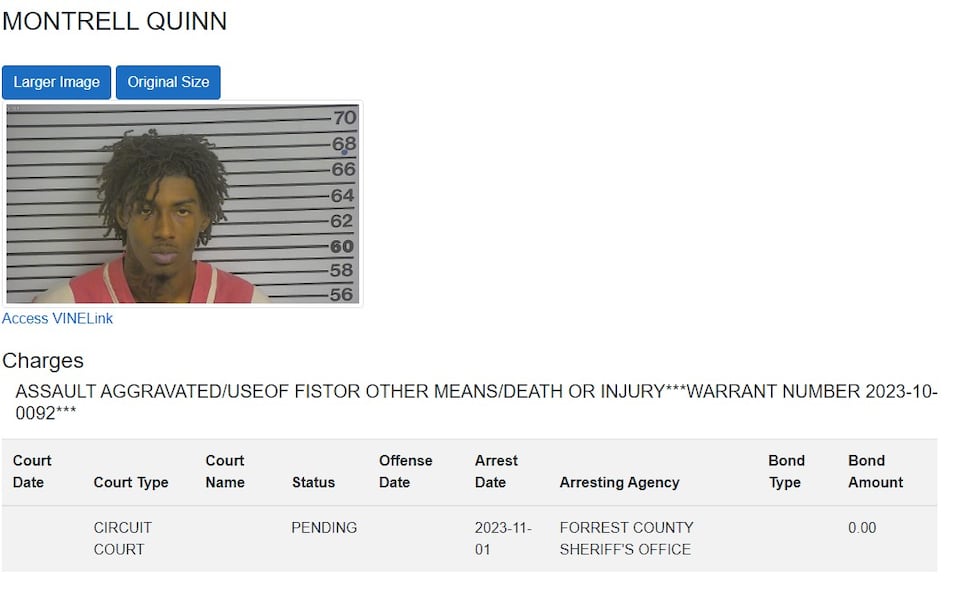 On Monday, the sheriff's department announced it was investigating a shooting that happened at the 195 Fruitland Park Lounge in Wiggins during the early morning hours of Sunday, Oct. 29, after four people were shot, with one of them being fatally wounded.
Forrest County Deputy Coroner Lisa Klem confirmed the identity of the deceased as 21-year-old Jade Rhodes of Oak Grove. Forrest County Sheriff Charlie Sims said Rhodes was a bystander in the shooting, as she was trying to get away in a car.
If anyone has information on the incident, call the Forrest County Sheriff's Office at (601) 544-7800 or submit an anonymous tip to Metro Crime Stoppers here or by calling (601) 582-STOP (7867).
Want more WDAM 7 news in your inbox? Click here to subscribe to our newsletter.
Copyright 2023 WDAM. All rights reserved.