Public comments show overwhelming support for placing Jackson sewer under third-party manager
Published: Sep. 30, 2023 at 10:02 AM CDT
JACKSON, Miss. (WLBT) - The numbers are in, and residents in Jackson overwhelmingly support placing the city's sewer system under the interim third-party manager.
On Friday, an unopposed motion was filed in U.S. District Court for the Southern District of Mississippi urging the court to approve a stipulated order placing the city's crumbling sewer system under the temporary control of ITPM Ted Henifin while a new consent decree is hammered out.
District Court Judge Henry Wingate could sign off on the stipulated order as early as this weekend.
The motion comes a little less than a month after a public comment period on a proposed order ended. It also comes more than 10 years after Jackson entered into a sewer consent decree. Since then, the city has made little progress to meet decree mandates and bring its sewer system into compliance with federal water quality laws.
During the comment period, more than 660 people submitted comments either at one of the public meetings held or to the EPA in writing.
Of those comments, court filings show 95 percent were in favor of placing sewer under Henifin, while 4 percent were opposed. The remaining one percent of comments were neither opposed nor in favor, court records state.
"Many commenters identified themselves as residents of the city, and a few also identified themselves as working in the city or as owners/managers/investors of businesses and properties in the city," court records state. "As a basis for their support, some comments also generally praised Mr. Henifin's effectiveness as the Water ITPM."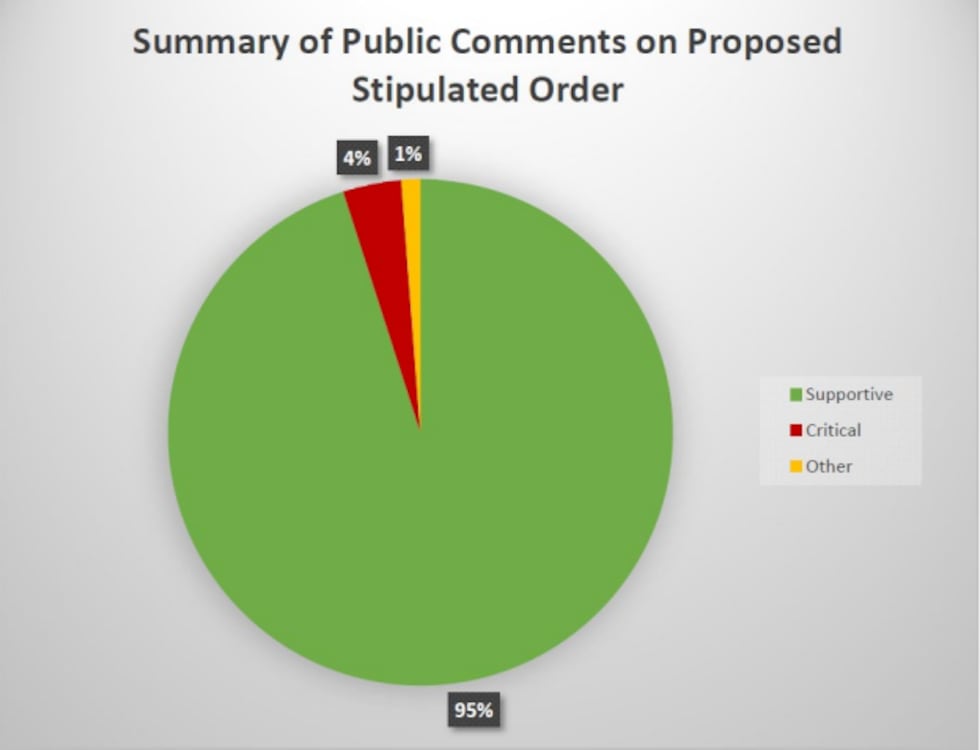 Henifin was appointed third-party manager over the city's water system in November 2022, weeks after a major water crisis left tens of thousands of people without running water for days.
Since January, there have been no citywide outages, and many of the issues that led to the August/September crisis, including a lack of staffing at both of Jackson's water treatment plants, are being addressed.
Examples of those comments include:
"Thank you for sending Ted Henifin to Jackson... Before he came, I kept several gallons of water stored in my storeroom because I couldn't trust the water system. Jackson is falling apart. Our sewage is polluting the Pearl River, crime is the worst in the country, and no one cares. We finally get Mr. Henifin here to help and the very people that never [gave] a damn about the water system are whining. They want their hands on the money so the water will be messed up again."

"Since the water system was turned over to Ted Henifin in late 2022, we have not experienced any water pressure issues. In addition, there were several water leaks on [street] within a few hundred yards of [business]. We reported those leaks to the city for at least two years and there was never any action to fix them.... Not only were the leaks repaired in a matter of months after Ted Henifin and his team took over, [but] the damaged streets were also paved and now there are no leaks or dangerous potholes."

"I have experienced firsthand numerous problems and issues over the last five years, including service and billing issues. Finally, my bill is being sent on a monthly basis and our water issues have improved tremendously. We have not had to purchase bottled water as we did in the past."
According to court records, comments critical of the order "focused on the relative lack of control and participation by citizens and elected officials if its sewer system is placed under the control of the ITPM, and a perceived lack of built-in transparency requirements."
Those commenters "urged that citizens be allowed to directly participate in overseeing the sewer system and the ITPM, expressing the concern that the ITPM has the authority to generally run the sewer system without involvement or oversight by the public or the city."
Examples of those comments are shown below:
"I have watched with a degree of disgust as the mandated responsibility of duly elected local officials and the control of resources to carry out mandated federal government policies have been placed in the hands of a single, appointed individual... I do not agree with the 'infrastructure czar' model as an implementation strategy. Duly elected officials must be involved in the process, since voters ultimately will hold them accountable."

"I didn't like what you mentioned about the rate increase [being] solely on Mr. Henifin... This is our city. We thank you for doing it for us. We definitely need to address the issues, but we need to have a say so."

"You have neutered our political leadership."
Attorneys say none of the comments warranted withdrawing or withholding the stipulated order. However, some modifications to the original document approved by the parties this summer have been made.
Among them, the parties have agreed to amend the order to require Henifin to include financial information, including expenditures and remaining balances, in his quarterly reports.
Additionally, his January quarterly reports must include audits of his professional budget, operations and maintenance account, and capital improvements account.
Henifin also will be required to host a public meeting within 30 days of the filing of each of his quarterly reports.
Attorneys say other checks and balances are included as well. As under the water order, Henifin will remain subject to the District Court, he also will be prohibited from transferring the city's sewer system to another governance structure or operating utility. Henifin, although not subject to the state's public record laws, also "must use best efforts to respond to document requests from the public, unless he demonstrates that such efforts would prevent him from carrying out his duties under the stipulated order."
Want more WLBT news in your inbox? Click here to subscribe to our newsletter.
See a spelling or grammar error in our story? Please click here to report it and include the headline of the story in your email.
Copyright 2023 WLBT. All rights reserved.