Destined for Distinction: USM Prepares for Homecoming 2023
Published: Sep. 26, 2023 at 7:35 AM CDT
HATTIESBURG, Miss. (WDAM) - University of Southern Mississippi (USM) student Victoria Walters said she loves being a part of the Golden Eagle family - from the football games to the tailgating and hanging out with her Delta Sigma Theta sorority sisters.
Walters, a senior psychology major from Pearl and president of the National Pan-Hellenic Council, is excitedly gearing up for Homecoming 2023. This year's theme is "Destined for Distinction," and events will run from Oct. 2-7.
"Now that homecoming is arriving soon, my excitement naturally grows," she said. "I've always enjoyed tailgating, but participating in the homecoming tailgate is something truly memorable at USM.
"Watching the homecoming parade as everyone is passing through is so exciting. Reuniting with old friends and alumni, as well as being able to network and mingle, is something I truly look forward to during homecoming season. It's an important part of the culture at Southern Miss and truly exciting to be a part of."
Hunter Simmons, a senior public health policy and administration major from Cleveland and president of Sigma Phi Epsilon fraternity, agreed with Walters. He said homecoming at USM is "one of the best times throughout the year to get the true Southern Miss experience." However, he had to wait to get his first experience of the annual celebration.
When Simmons enrolled at Southern Miss in 2020, COVID regulations severely restricted the social interactions that he said truly make homecoming memorable.
"There was no homecoming celebration," he said. "It was a hard year, but following COVID, our first homecoming was off-the-charts. Everyone in every organization was going all day and night to prepare floats and show our school spirit in everything we did.
"Homecoming makes me realize how lucky I am to have chosen Southern Miss and joined the Golden Eagle Family."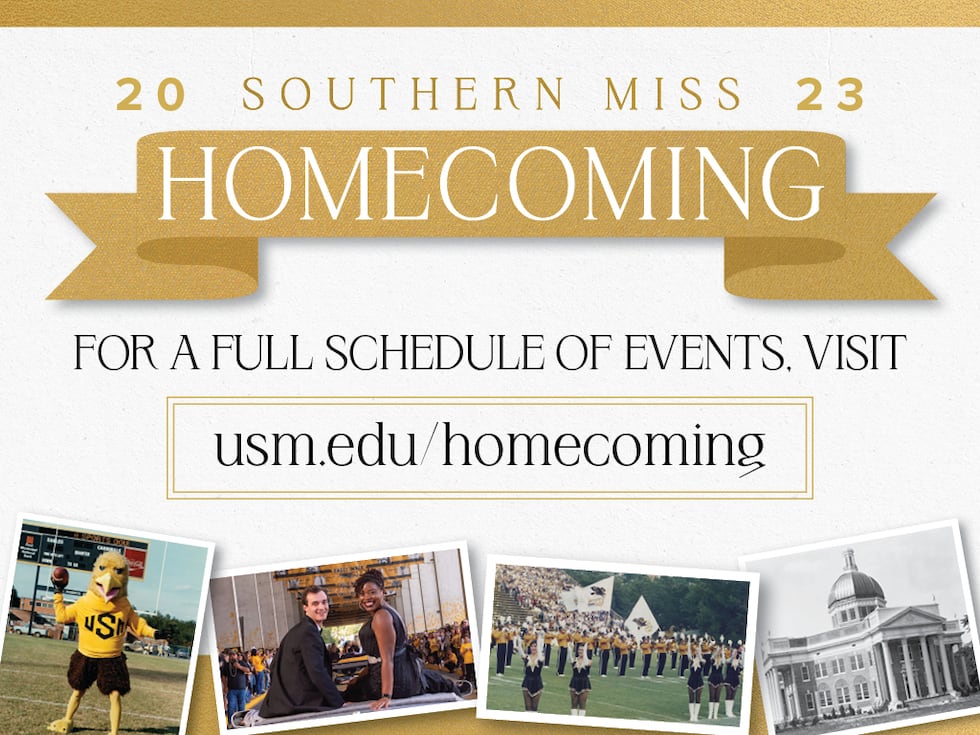 USM 2023 Homecoming events include, but are not limited to, the following:
Oct. 4-5: Presidential Inauguration Celebrations at the Hattiesburg and Gulf Park campuses
Oct. 6: 25th Annual Alumni Homecoming Golf Tournament, 8 a.m., Hattiesburg Country Club
Oct. 6: Alumni Hall of Fame Banquet, 6:30 p.m., Thad Cochran Center, Hattiesburg campus
Oct. 6: Friday Night at Spirit Park, 7 p.m., Southern Station, Hattiesburg Campus
Oct. 7: Alumni Association Annual Meeting, 10:30 a.m., Thad Cochran Center Ballrooms
Oct. 7: Homecoming Parade, 1 p.m. on Hardy Street in Hattiesburg
Oct. 7: Pregame entertainment at Southern Station, 4 p.m.
Oct. 7: Homecoming football game vs. Old Dominion University, 6 p.m.
Laura Laughlin, executive director of Student Connections at USM, said there's just something special about the nostalgia that homecoming brings.
"That's my favorite part each year," said Laughlin. "Seeing familiar faces and visiting favorite spots on campus makes me remember those incredibly formative college years." "I love seeing people of all ages experience and reminisce on their memories, too, all while seeing current Southern Miss students in the middle of their best days. It all provides this sense of connection to fellow Southern Miss faithful that just can't be matched."
Fellow staff member iTech Customer Service Manager Brandi Soule said homecoming week is, for her, all the good things about USM and the fall season.
"The campus is full of life during this time," Soule explained. "Enjoying all the fellowship of tailgating, parades, looking at the floats, listening to the Pride of Mississippi (marching band) play and seeing all the Homecoming Court with friends and family is simply priceless.
"Then to be able to go into the Rock (USM football stadium) for the big game! Southern Miss football means family, fun, unity, teamwork and love to me. My family and I are emotionally attached to this team and embrace it no matter the outcome. We always bring friends or family along to share the joy and experience of Southern Miss Football. We bleed black and gold!"
For more details about USM 2023 Homecoming, visit the Upcoming Events section of the Southern Miss Alumni Association website.
Want more WDAM 7 news in your inbox? Click here to subscribe to our newsletter.
Copyright 2023 WDAM. All rights reserved.