Deputies accused of abusing two Black men during raid fired, sheriff says
Published: Jun. 27, 2023 at 3:02 PM CDT
RANKIN COUNTY, Miss. (WLBT) - Deputies allegedly involved in beating and sexually assaulting Michael Corey Jenkins and Eddie Parker earlier this year have been fired.
Six Rankin County deputies are accused of what attorneys say was a racially motivated attack against the two African American men in late January.
Attorneys for Jenkins said the 32-year-old was critically injured by the deputies, who are said to be white.
"Due to recent developments, including findings during our internal investigation, those deputies that were still employed by this department, have all been terminated," Sheriff Bryan Bailey said at a Tuesday afternoon press conference.
Bailey did not say how many deputies were still employed when the new findings came to light. "This will continue until all investigative efforts are complete and justice is served," he said.
The matter is being investigated internally by the sheriff's office, the Mississippi Bureau of Investigation, and the U.S. Department of Justice. It also is the subject of a federal civil rights inquiry.
Bailey said the department has "cooperated with all investigation efforts related to this incident and have provided all information and data requested in a timely manner."
A 3 On Your Side investigation in March uncovered no body camera footage from the incident existed and that there were wide gaps from the time the cameras were turned off to the time they were again activated.
Bailey did not say how many deputies had been fired or share their names. He said some had previously been on administrative leave.
He also would not provide other details on the case, saying the investigation was ongoing.
"We understand that the alleged actions of the deputies have eroded the public's trust in our department," the sheriff said. "Rest assured... we will work diligently to restore that trust."
Bailey read from a prepared statement and referred additional questions to Undersheriff Paul Holley and the department's legal counsel, Jason Dare.
Dare also would not tell reporters how many deputies had been fired.
WLBT has confirmed that five deputies allegedly involved in the incident are no longer with the department.
Malik Shabazz, an attorney for Jenkins and Parker, said deputies conducted the operation without presenting a warrant and that the two men were allegedly punched and tased for 90 minutes. Other allegations also arose that the deputies sexually abused the men during the incident.
Shabazz said the sheriff's actions are "long overdue," but justice will not be served until the deputies allegedly involved face state and federal charges.
"The firing of the Rankin County Mississippi sheriff's deputies involved in the torture and shooting of Michael Jenkins and Eddie Parker is a significant action on the path to justice for one of the worst law enforcement tragedies in recent memory," Shabazz said in a statement.
"Criminal indictments of the deputies from the Attorney General of the State of Mississippi and criminal indictments by the Civil Rights Division of the Department of Justice is the next step in this tough fight for Justice in this nasty ordeal," he said.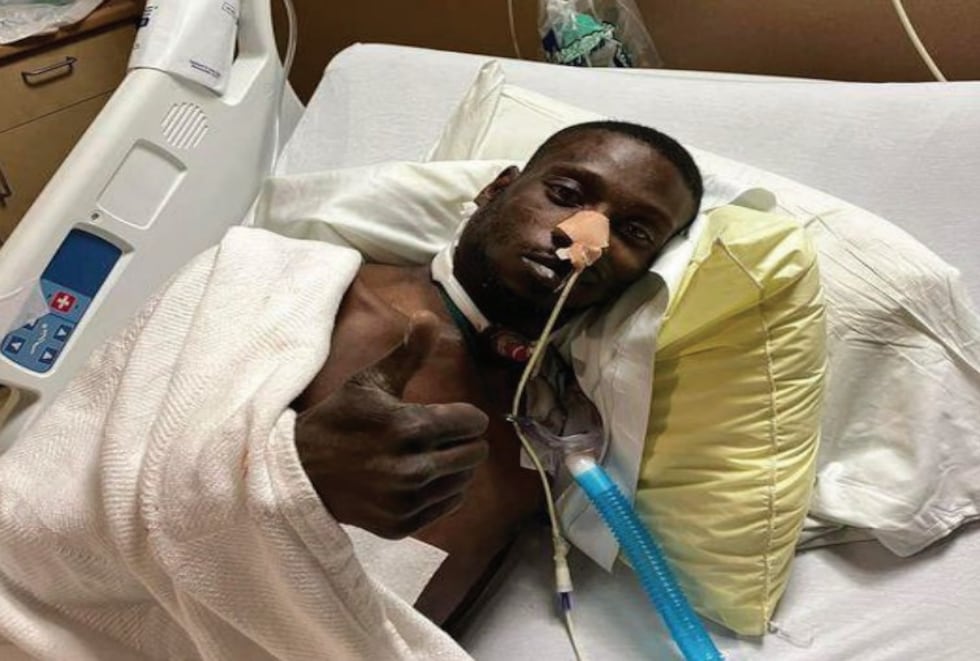 Black Lawyers for Justice also released a statement calling on the deputies to be indicted. Trent Walker, local Mississippi counsel for the group, says he's hopeful that the sheriff's announcement means justice will be served.
"I have lived in Rankin County all my life. These firings are unprecedented," he said. "Finally, the window to justice may possibly be opening."
In February, the United States Department of Justice announced it was looking into possible civil rights violations by the sheriff's department after the January raid, in which Jenkins was shot in the face.
On June 12, Shabazz filed a complaint against the Rankin County Sheriff's Office, the sheriff and the deputies allegedly involved in the incident in U.S. District Court for the Southern District of Mississippi.
Three deputies are named: Hunter Elward, Brett McAlpin, and Christian Dedmon. Three others are listed as John Does 1-3.
According to a deputy's incident report included in court records, they were responding to 135 Conerly Rd. "in reference to reports of narcotic activity." Upon arrival, deputies said he came into contact with Jenkins and noticed "two bags containing what appeared to be methamphetamine."
Jenkins was transported to the hospital for medical treatment following the incident. Parker was taken to the Rankin County Jail where he was charged with possession of drug paraphernalia.
Hospital records show that Jenkins received a gunshot wound to the right face and when arrived at the hospital, he was unable to move his mouth to speak.
"There were copious bloody secretions in the mouth and bifurcated tongue noted," medical records stated. "There was concern of airway compromise and the patient was intubated for airway protection."
For his part, Bailey, who is elected, said he wasn't resigning and pointed to several measures put in place to restore the public's trust in his department.
"These actions include a detailed analysis of our policies, procedures, and training for all personnel. We've also retailed a full-time compliance officer for monitoring our daily operations and to ensure our department remains compliant with all state and federal law," he said. "I believe in my heart that this department remains one of the best departments in our state."
WLBT Anchor Howard Ballou and Reporter Quentin Smith contributed to this story.
Want more WLBT news in your inbox? Click here to subscribe to our newsletter.
See a spelling or grammar error in our story? Please click here to report it and include the headline of the story in your email.
Copyright 2023 WLBT. All rights reserved.