Buzz growing around Ole Miss receiver and Brandon High School grad Jonathan Mingo ahead of NFL Draft
Mingo has been projected as high as the first round by experts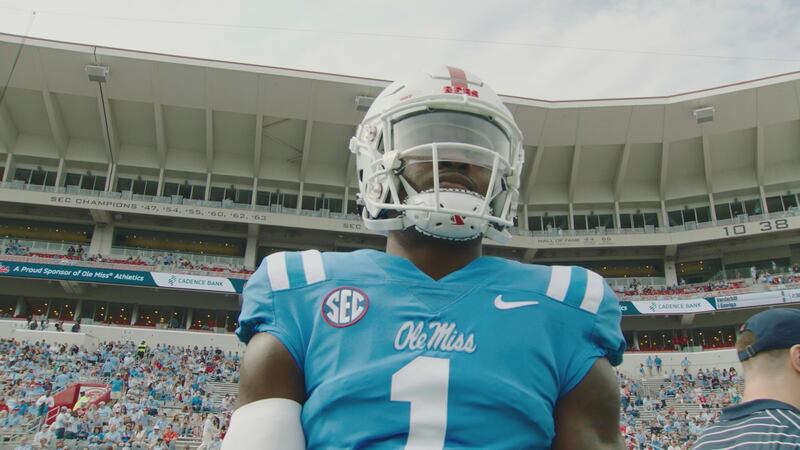 Published: Apr. 26, 2023 at 10:00 PM CDT
JACKSON, Miss. (WLBT) - Since the TaxAct Texas Bowl on December 28, Jonathan Mingo has been busy preparing for his life after college. The former Ole Miss and Brandon High School wide receiver competed in the Reese's Senior Bowl, participated in the NFL combine, and met with NFL teams ahead of Thursday's NFL Draft.
"It's been a fun process," Mingo said. "Just traveling all across the country, visiting different cities, seeing how NFL teams have different cultures, meeting with the coaches, seeing some people that you've been looking up to since you were a kid, training with some of the top athletes, it's been a blessing."
Mingo compiled more than 1,700 receiving yards at Ole Miss, with 12 scores through the air, and now sits just days from realizing his goal of being an NFL player. Mingo has worked hard to get where he is now.
"I had my mind decided in high school what I wanted to do with life. So, I just knew I had to keep working, the same stuff I was doing in high school, I had everything the same," he said.
His hard work has been recognized by draft experts. Evaluators have praised Mingo's size and route-running ability, some even comparing him to Ole Miss receivers turned NFL stars AJ Brown and DK Metcalf.
"Two guys from Mississippi who put on for Ole Miss and are doing great things in the NFL, it's a blessing to be compared to them," Mingo said. "I'm just trying to be myself, trying to make a name for myself. It's a blessing to be compared to them, because they're two guys I definitely look up to."
Mingo is expected to have his name called in the first two days of the draft. The Athletic's Michael-Shawn Dugar has Mingo in the third round, as does 247 Sports' Shane Hallam. Walter Football has Mingo in the second round, while some are very high on Mingo, like NFL.com's Peter Schrager, who has him going to the New Orleans Saints with the 29th overall pick.
Adam Scheln, also with NFL.com, believes Mingo could be one of the best receivers in the class.
"If Mingo goes in Round 2, it's a steal. And if a team takes him in Round 1, I'll stand up and applaud the move," Scheln wrote in his story on his NFL draft takes Tuesday.
Mingo has blocked out all the projections, and no matter where he goes, he'll be ready to work.
"I don't really listen to all the hype," he said. "It's always this and that, I can't control none of that. Everybody wants somebody, and there are a number of guys they can pick. So, I'm just trying to make sure I'm in shape, and ready to go when camp hits."
Mingo said he plans on watching the draft with some family and friends.
While Mingo may be the one generating the most buzz, he's not the only Mississippi wide receiver in the draft. Fellow Rebel, and Callaway High School graduate Malik Heath, and Southern Miss receiver and West Point High School graduate Jason Brownlee are also in the draft. Mingo gassed up his fellow Magnolia State receivers in this year's class.
"Me, Malik Heath, and Jason Brownlee are the best receivers in the draft," he said.
The NFL Draft will be held in Kansas City, and starts at 7:00 central time on Thursday for Round 1 of the draft. Rounds 2 & 3 will start at 6:00 CST on Friday, with Round 4-7 starting at noon on Saturday. The NFL Draft will be available to watch on ABC, ESPN, and NFL Network.
Want more WLBT news in your inbox? Click here to subscribe to our newsletter.
See a spelling or grammar error in our story? Please click here to report it and include the headline of the story in your email.
Copyright 2023 WLBT. All rights reserved.