Golden Eagles extend win streak to 7 games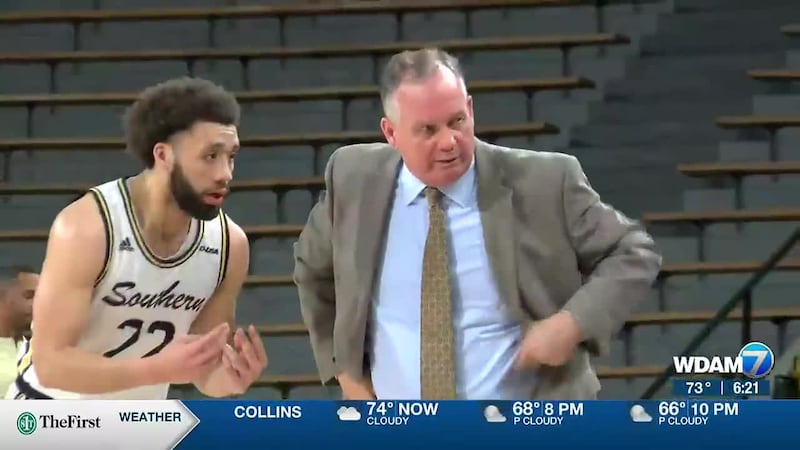 Published: Feb. 4, 2023 at 10:46 PM CST
Southern Miss Sports Information
ATLANTA, Ga. (WDAM) - Felipe Haase exploded for 26 points as the Southern Miss (21-4, 10-2 SBC) men's basketball team overcame a halftime deficit to defeat Georgia State (10-14, 3-9 SBC) in Atlanta on Saturday afternoon.
The 79-71 win gave the Golden Eagles their 21st win of the season, which is tied for the most by a Sun Belt team since the 2018-19 season.
Haase scored 10 of Southern Miss' first 12 points and DeAndre Pinckney added a basked to help the Golden Eagles to an early lead. The Osorno, Chile native drilled a pair of three-pointers before the horn could sound for the second media timeout.
While Haase was enjoying a hot start from beyond the arc, Georgia State also found success from there. Brenden Tucker had 17 first-half points thanks in large part to his three three-pointers. He helped the Panthers to six triples in the first half.
Neither team pulled ahead by more than five in the first half before Georgia State took a four-point lead into the break. Trailing by two with 3:12 left in the opening frame, Dwon Odon started a 6-0 run to help the Panthers grab the advantage.
While the Golden Eagles struggled shooting over the first 20 minutes, Georgia State enjoyed a 43.3 percent shooting clip to Southern Miss' 34.4 percentage. Haase (15) and Austin Crowley (7) combined for 23 of the 30 points the Golden Eagles scored in the half.
Out of halftime, Pinckney immediately swung momentum back to Southern Miss with a massive dunk just nine seconds into the half. Haase then hit back-to-back baskets to make it a one-point game.
Georgia State extended the lead back to three before Neftali Alvarez made a pair of contested layups to give Southern Miss its first lead since Odom's basket in the first half. The Panthers answered, but only before Southern Miss ripped off a 14-0 run over a three-minute span to push its lead to 10. The run featured five points from Marcelo Perez and seven from Mo Arnold.
The Golden Eagle defense forced six turnovers during the run and finished the day with 15 points off Panther turnovers. Not all was sweet, though, as Georgia State eventually cut the Southern Miss lead to two with 2:25 to play.
Arnold took matters into his own hands and capitalized on a fast break to silence the Panther crowd. The Golden Eagles would go on to hit eight over the final 49 seconds to ice their seventh road win of the season.
Pinckney finished with 12 points and 11 rebounds to notch the 10th double-double of his career. Perez had nine points off the bench, while Arnold finished with 11 points and five assists.
Alvarez and Crowley finished with nine and eight points, respectively.
The Golden Eagles return home to face Louisiana on Thursday, Feb. 9 at 7:30 p.m. The game will follow the Southern Miss women's basketball game at 5 p.m.
Fans can purchase $10 bleacher or $20 chairback tickets as part of a Mardi Gras Special. Fans are also encouraged to wear white for a whiteout.
Want more WDAM 7 news in your inbox? Click here to subscribe to our newsletter.
Copyright 2023 WDAM. All rights reserved.