Independent investigation to be launched after Wayne Co. sheriff wrecks county vehicle
Published: Jan. 19, 2023 at 6:51 PM CST
WAYNE COUNTY, Miss. (WDAM) - The Wayne County Board of Supervisors called for an emergency session on Thursday, Jan. 19, at 3 p.m., at the Wayne County Courthouse in Waynesboro. It was called by Jerry Hutto, the president of the board of supervisors.
According to the notice of emergency board meeting, the purpose was to determine conditions related to the general welfare and safety of the citizens of Wayne County due to the extreme loss of employees and staff of the Wayne County Sherriff's Department in addition to serious damages to county property.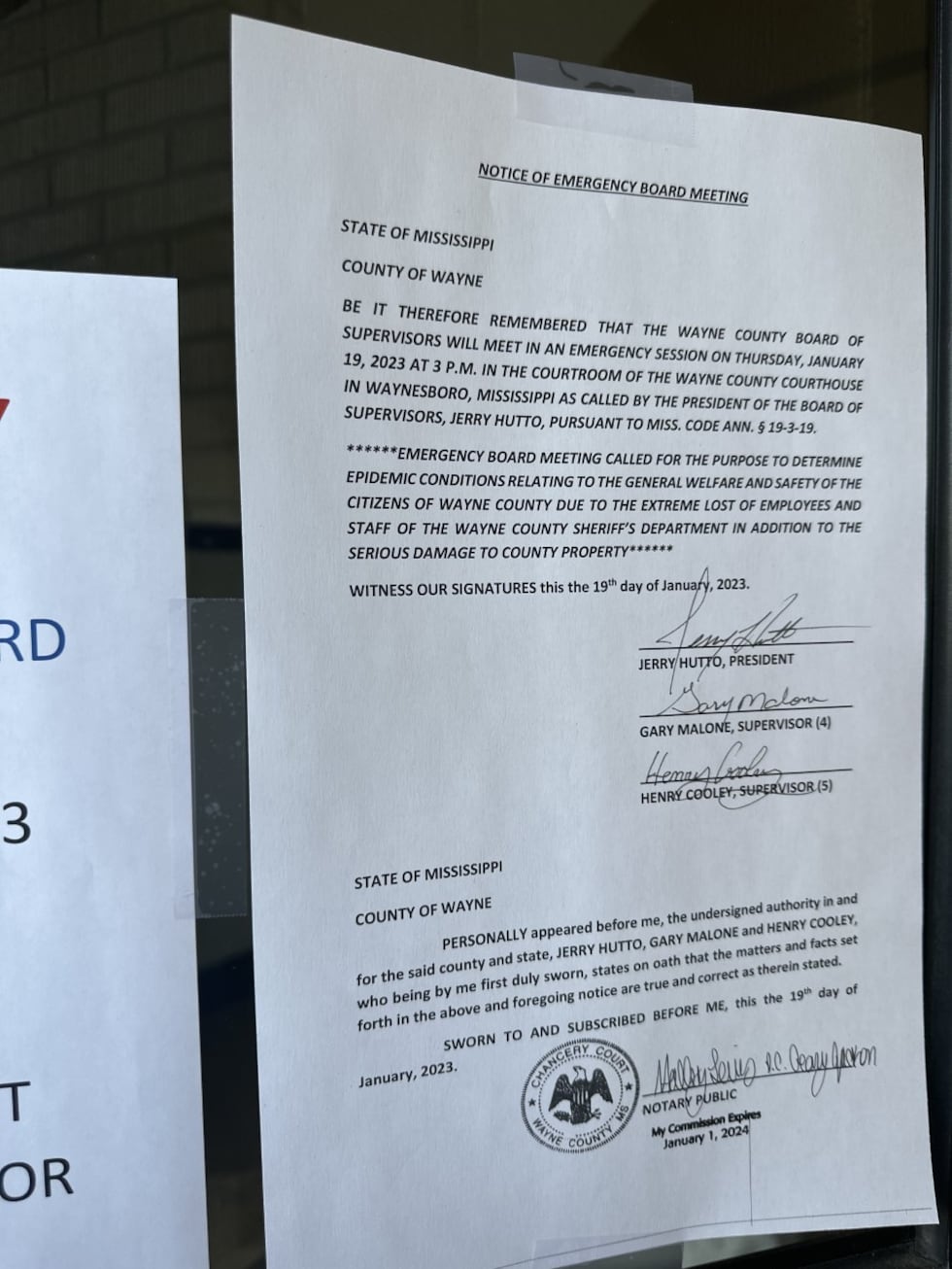 According to the newly appointed Chief Deputy Jason Wiggins, who was appointed at 4 p.m. on Wednesday, the Wayne County Sheriff, Jody Ashley, was involved in a vehicular accident early Wednesday morning, between 3 - 4 a.m., in a county vehicle. He was reportedly not on a call from 911 dispatch at the time of the wreck.
An ambulance was not called to the scene, but the vehicle was totaled.
Wiggins said Ashley reportedly left the scene of the accident.
An active investigation was done at the scene of the accident by Wayne County deputies. It was an internal investigation.
Wiggins said, at this time, alcohol is not believed to be involved in the accident. When the deputy arrived on the scene, they did not see or smell any alcohol.
The chief deputy said that, within 24 hours, the sheriff has received medical treatment. He was reportedly transported to the hospital Thursday morning.
The Jones County Sheriff's Department said it was contacted Wednesday night, around midnight, by Ashley asking for a ride to the South Central Regional Medical Center Emergency Room from a residence in Jones County. His request was accommodated by a JCSD deputy at the direction of the JCSD command staff as a professional courtesy sometime between Wednesday night and Thursday morning.
After an executive session to talk about personnel matters with the sheriff's department, the board passed a motion to bring an independent investigation into the accident with the cooperation of Wiggins.
According to the Board of Supervisors Attorney Cooper Leggett, the board does not have the power to investigate the accident, which is the responsibility of the sheriff's department. Leggett said the board's extent of control over the sheriff's department mainly revolves around money and the budget.
Leggett said during the executive session, there was a joint decision with the sheriff's department to pursue an independent investigation.
As of Friday, Jan. 20, at 9:30 a.m., the Mississippi Bureau of Investigation is not conducting an investigation into this matter.
Four WCSD deputies reportedly quit recently; they were reportedly not terminated from their positions.
WCSD is actively recruiting new deputies at this time. The jail is staffed, so there are no issues at this time.
Want more WDAM 7 news in your inbox? Click here to subscribe to our newsletter.
Copyright 2023 WDAM. All rights reserved.