HBURG Public Art Trail now includes Hub City utility boxes
Published: Jan. 19, 2023 at 8:28 AM CST
HATTIESBURG, Miss. (WDAM) - VisitHATTIESBURG recently announced the release of the HBURG Public Art Trail: Utility Box Edition, featuring 44 utility boxes with original paintings from local and national artists.
From 2020 through 2022, the utility box project unveiled the artworks in three phases. The strategic locations connect Hattiesburg's neighborhoods, main thoroughfares and points of interest.
Ricardo Moody, a local art teacher, is one of 32 artists who contributed to Hattiesburg's public art portfolio. As a result, he has numerous works featured on both the original HBURG Public Art Trail and the utility box edition.
"Public art is important for Hattiesburg because it highlights the vibrancy of our city and its people," Moody said. "The pieces featured on the new trail have the ability to activate space, creating an inviting place where new interactions take place."
VisitHATTIESBURG said the utility box project had provided an opportunity for budding artists to gain valuable experience, grow their portfolio and leave a permanent mark on Hattiesburg.
Several college students and three young artists, 12-16 years of age, also had designs selected - including Aubri Sparkman.
"I really enjoyed when people passing by shared positive and encouraging words with me as I worked," said Sparkman.
After completing her utility box painting, Sparkman was later selected by the Hattiesburg Alliance for Public Art to paint her first large-scale mural.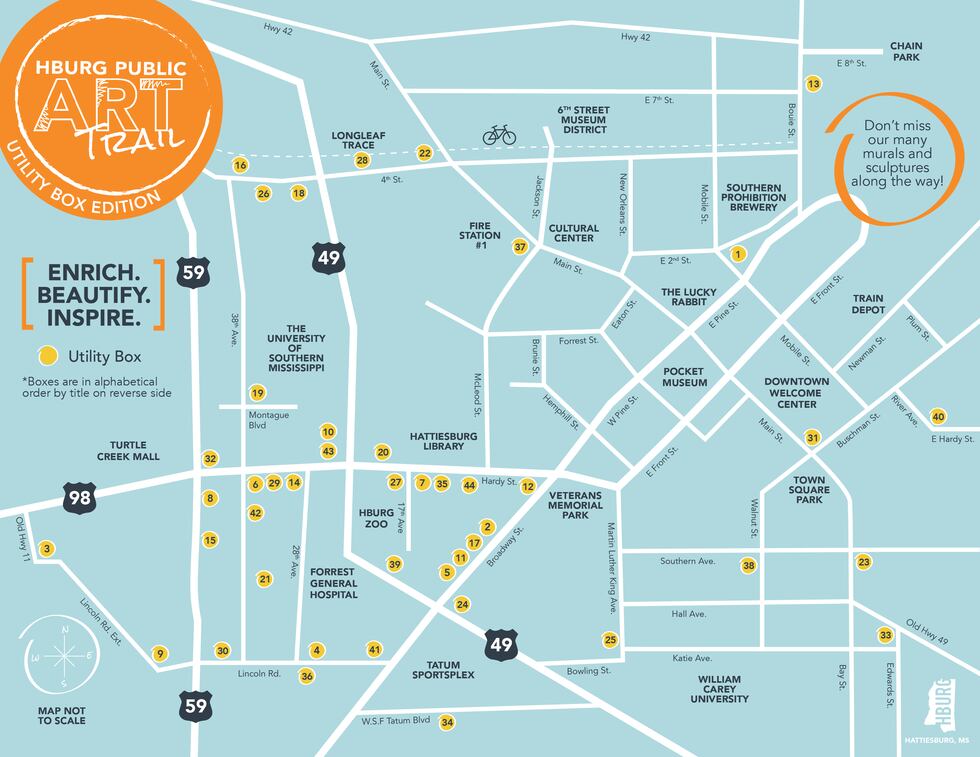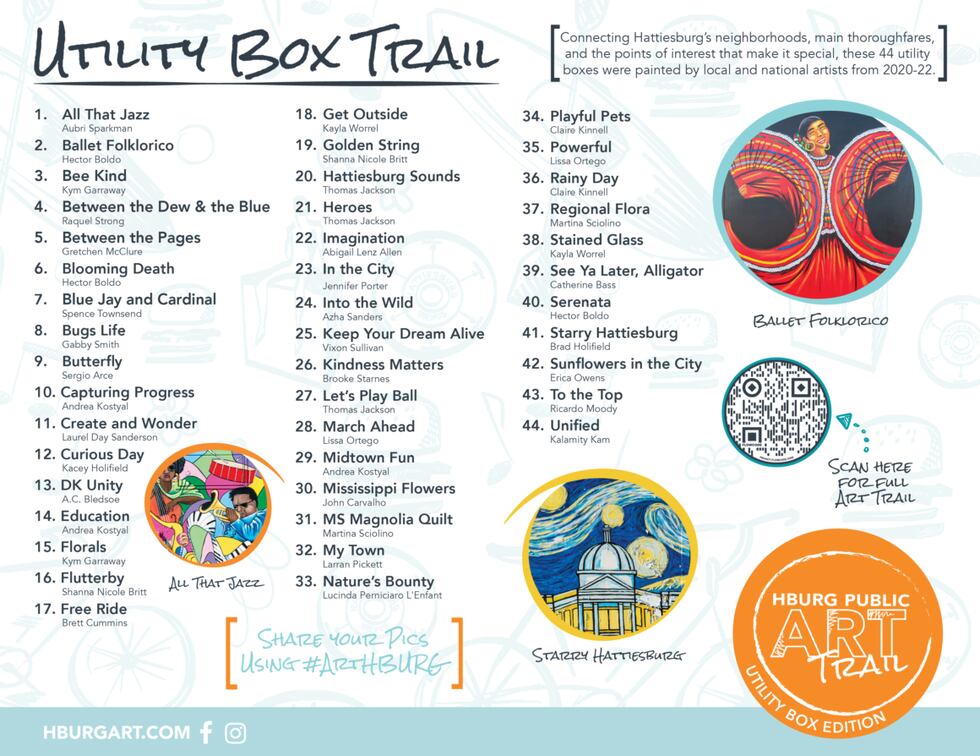 In early 2022, Hattiesburg was named a "Top 11 Must-see Public Art Destination in the World" by Travel + Leisure Magazine.
The VisitHATTIESBURG team said they are committed to continuing to tell the story of Hattiesburg's creativity through a wave of growth in public art.
"This additional component of our public art trail adds another layer of authenticity and diversity to our public art offerings," Marlo Dorsey, executive director of VisitHATTIESBURG, said. "We greatly value our working relationships with the many talented artists that have been instrumental in Hattiesburg's progression as a modern, creative hub."
VisitHATTIESBURG is actively marketing the Public Art Trail: Utility Box Edition in drive markets to encourage participation. There are numerous ways for residents and visitors to discover the attraction, including digital brochures and interactive maps on hburgart.com and the 'Visit HBURG' mobile app.
For more details on the HBURG Public Art Trail: Utility Box Edition, visit //hburgart.com/utility-box-trail/.
Want more WDAM 7 news in your inbox? Click here to subscribe to our newsletter.
Copyright 2023 WDAM. All rights reserved.