West Jones senior football player killed in crash with school bus
Published: Oct. 20, 2021 at 8:35 AM CDT
JONES COUNTY, Miss. (WDAM) - A Jones County school bus was involved in a crash with a pickup truck on U.S. Highway 84 on Wednesday morning.
According to the Jones County Sheriff's Department, a West Jones High School senior driving the truck died in the crash.
West Jones High School Principal Cooper Pope identified the student as 18-year-old Cade Thompson, a senior football player for the Mustangs.
"It's hard... it's very hard to lose a child like that," Pope said. "They're not supposed to leave us that soon."
Pope described Cade as an exemplary student and an outstanding person.
"He was a Godly man," Pope said. "You know, Paul writes in Galatians something called the 'fruits of the spirit;' that's what he was. I mean he was that kind of kid. Trustworthy, kind, good to people."
Pope says the community immediately began showing support. Football rival Northeast Jones honored Cade by putting his photo and jersey number, 56, on the football stadium scoreboard Wednesday afternoon. Local churches also showed support.
"Our churches are very important to us in this community," Pope said. "Without having to ask them, they were on the scene this morning with our football players... By the time I had gotten back on campus, those players had met with all of the coaches down at the fieldhouse and we had four or five youth ministers that were here praying with our kids. And our kids were getting the chance to mourn together and to be together and to talk together which they needed that."
School leaders are taking steps to help students cope with the loss of their classmate.
"What we've began to do is to deal with the psychological needs of our students dealing with this," said Tommy Parker, Jones County School District Superintendent. "So our counselors... we have a great counseling team there at West Jones High School and not only those, but we have a crisis team at our school district. We've made them available to those students."
Parker says counselors will be available to students for the rest of the week.
Nine students were on the bus when the crash happened, according to Mississippi Highway Patrol. None were injured in the crash.
WDAM was told that the school bus was headed to West Jones High School carrying mainly middle school students.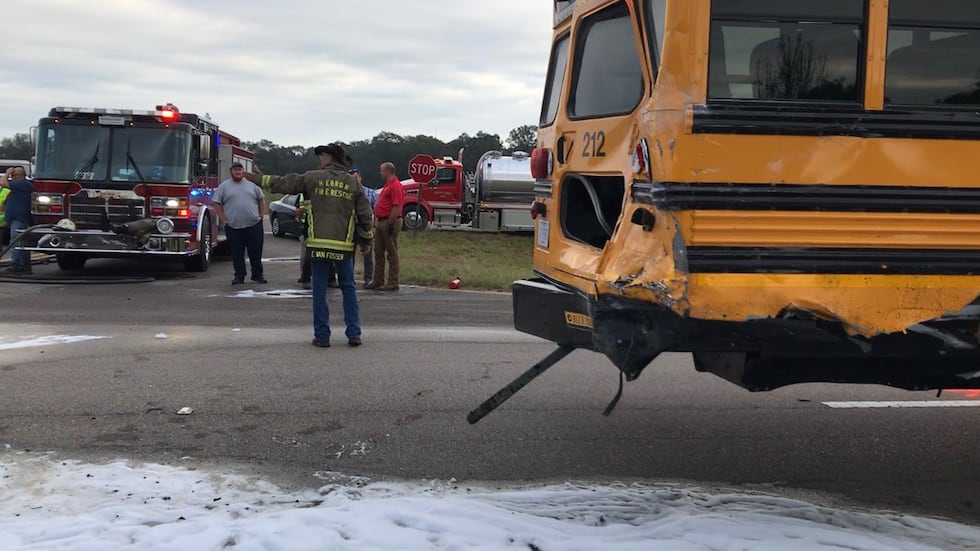 According to Jones County Fire Council Public Information Officer Dana Bumgardner, the crash happened on U.S. Highway 84 in the eastbound lanes at Roy Jefcoat Road.
A news release from MHP said Cade's 2015 Chevrolet Silverado ran into the back of a stopped school bus.
Cade died at the scene, MHP said.
Bumgardner said one lane of traffic was reopened about 7:59 am to allow traffic to begin flowing.
MDOT cleared the traffic alerts for the area at 11:04 a.m.
The crash is being investigated by MHP.
Copyright 2021 WDAM. All rights reserved.