Back to school immunization fair held in the Pine Belt
Updated: Jul. 16, 2019 at 8:10 PM CDT
HATTIESBURG, Miss. (WDAM) - Last year the nation experienced record breaking numbers of influenza-like illnesses, according to the Centers for Disease Control and Prevention. The CDC reported more than 170 children died due to flu-related deaths with 80% of those deaths happening to children who did not receive a flu vaccine that season.
Health experts in the Pine Belt are stressing the importance of getting your child immunized and keeping their check ups up to date.
"The meningitis shot, chicken pox and measles, mumps and rubella shot," said N.R. Burger School and Community Clinic Medical Doctor Cierra Green.
The importance of back to school vaccinations are at the forefront for health professionals.
"It's very important to get your child vaccinated because the main goal is to prevent your child from getting sick," Green said.
The CDC is stressing the importance of up-to-date vaccines for children across the country. Southeast Mississippi Rural Health Initiative is in line with national recommendations with a goal to protect children from serious diseases.
"We have every vaccine that is required for our children going into school," Green said. "So, if you are ages 4 or 5 heading into kindergarten, there are some recommended vaccines you need."
Children from birth to ages 18 do need immunizations. Green said it's not too late if your child has missed any vaccinations.
"We encourage you just to walk in anytime," Green said. "Our clinics are open and we will be able to get you in and out as soon as possible and get you updated and ready for school."
Right now, Southeast Mississippi Rural Health Initiative is hosting a back to school immunization fair through Aug. 2 at several Pine Belt clinics. Parents and guardians can sign up for the School Based Health Program through select schools to receive health care throughout the entire year for your child, at no cost.
If you do qualify and your child receives vaccines, a well child check-up, or a dental screening, you will receive free school supplies.
Learn more about the free program, by clicking here.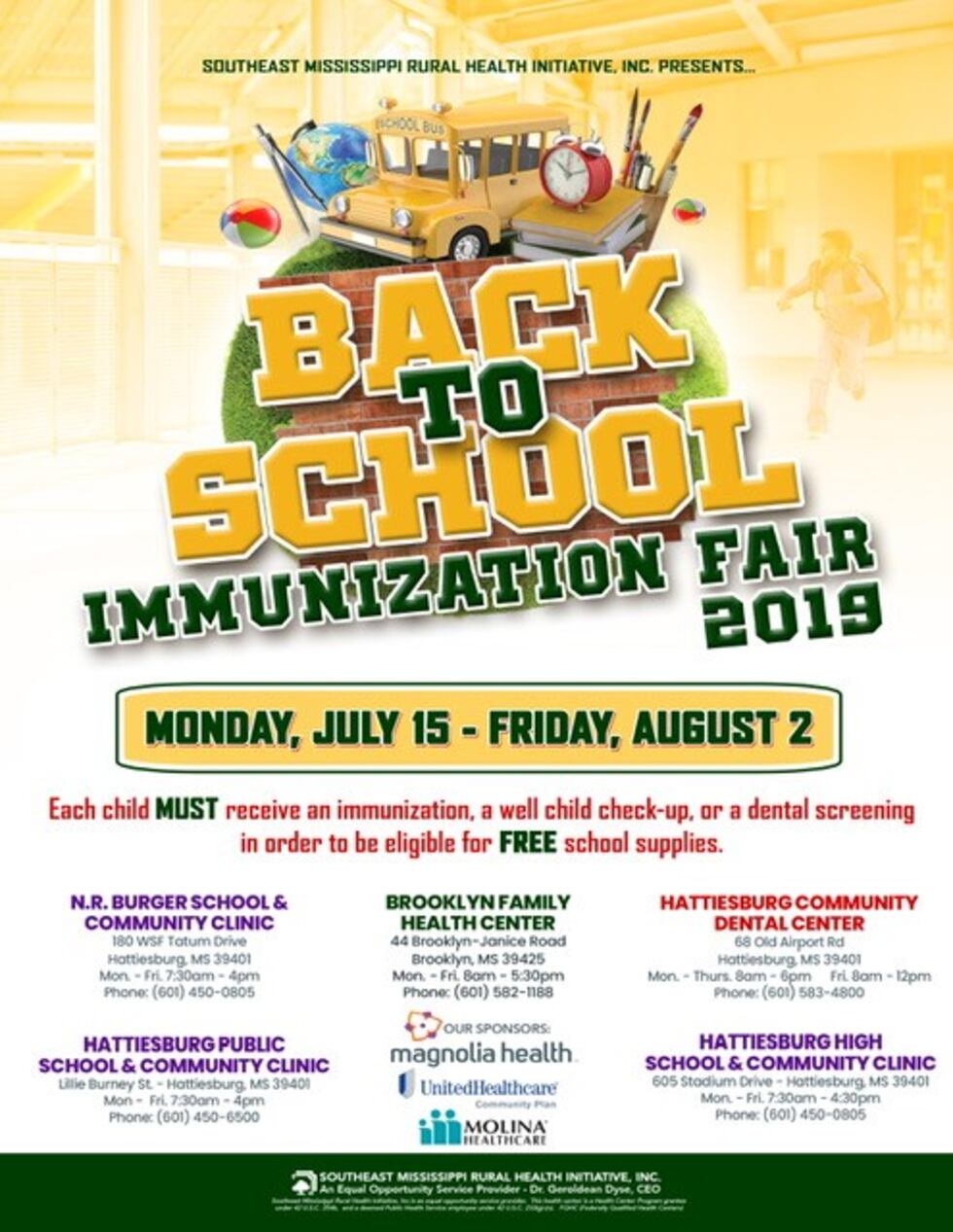 Copyright 2019 WDAM. All rights reserved.