La. lawmakers approve fetal heartbeat abortion ban
Governor will sign in June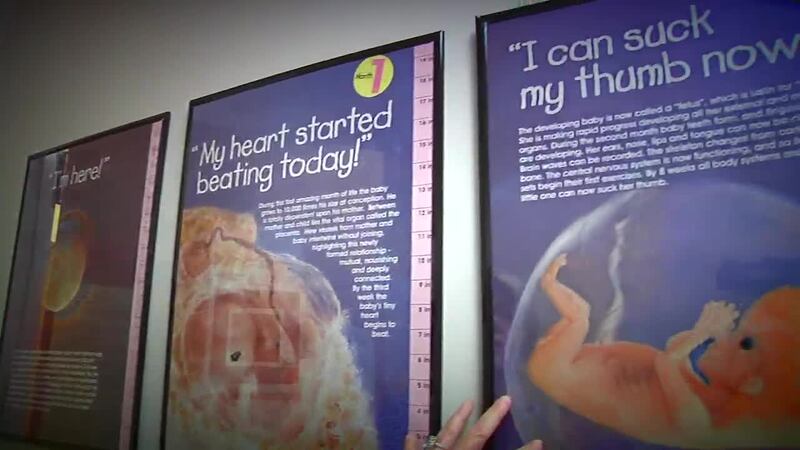 Published: May. 30, 2019 at 4:44 AM CDT
BATON ROUGE, La. (WAFB) - Governor John Bel Edwards says he will sign a just-passed bill that would ban abortions as soon as a doctor can find a fetal heartbeat.
The bill will only take effect if similar bans in other states are upheld by federal judges.
The House approved the bill, 79 to 23, Wednesday, May 29. No exceptions will be made for victims of rape or incest, although the bill does carry an exemption for women if their lives would be endangered by carrying the pregnancy to term.
Sen. John Milkovich, a Shreveport Democrat who rarely votes with his caucus, authored the bill.
Fetal heartbeats are generally detected around the sixth week of pregnancy, before many women are aware they're carrying a fetus. That means the bill can be a total ban on abortion if the mother is unaware she's pregnant, but a fetal heartbeat is detectable.
Similar laws have already passed in other states, where opponents have called it an attack on women. Some noteworthy actors are refusing to do business in Georgia after its legislature approved a similar bill.
Gov. Edwards released a statement following the passage of the bill: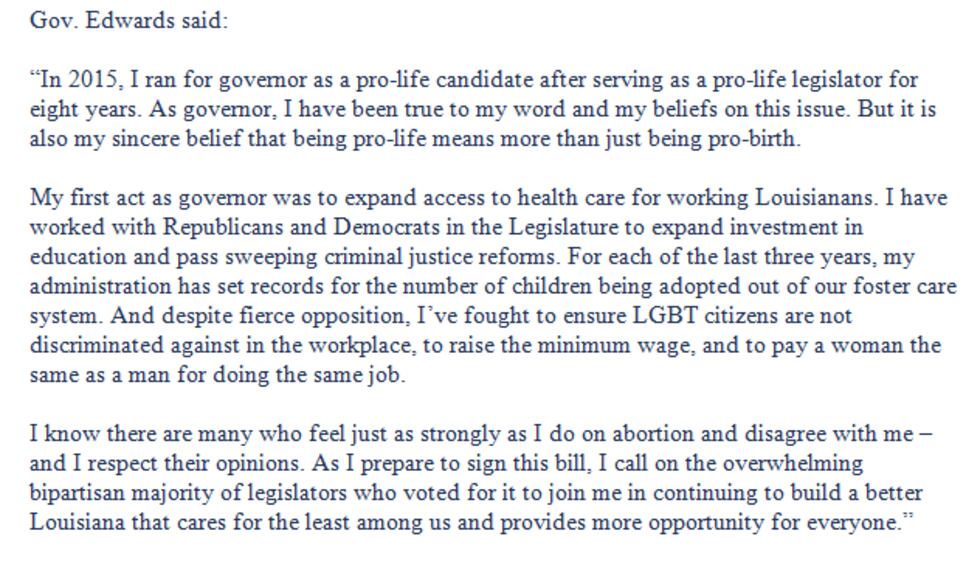 The ACLU of Louisiana however, is condemning the passage of the bill. The group released a statement Wednesday evening.
"This extreme abortion ban is part of a concerted, nationwide effort to criminalize abortion," said Alanah Odoms Hebert, ACLU of Louisiana executive director. "After years of attacks on abortion access, Louisiana politicians have now sunk to a new low with an extreme ban that would outlaw abortion before many women know they are pregnant. Senate Bill 184 is a plainly unconstitutional reminder of just how far Louisiana politicians are willing to go to interfere in these deeply personal medical decisions and force women to continue pregnancies against their will. We're committed to making sure this brazen attack on the constitutional right to abortion access never takes effect."
Louisiana Right to Life also released a statement, praising the bill's passage.
"We commend the House for voting to protect the lives of an unborn baby whose heartbeat can be detected. We congratulate Rep. Valarie Hodges for successfully shepherding the law on the House floor. Louisiana Right to Life supports protecting all unborn babies, including those with a heartbeat that begins only 18 days after conception. This is even before most women know they are pregnant. Abortion stops the beating heart of a precious unborn child, and our nation must bring an end to this injustice. We look forward to Governor John Bel Edwards signing this bill into law."
Louisiana lawmakers approved a bill in 2014 requiring doctors who perform abortions to have admitting privileges at a local hospital, essentially making them an honorary member of that hospital's staff. It was among the nation's most restrictive abortion laws when it passed, but it's still awaiting a Supreme Court ruling that's scheduled for the fall.
Even if the governor signs the bill in June, it could be years before the law is upheld and takes effect.
Copyright 2019 WAFB. All rights reserved.