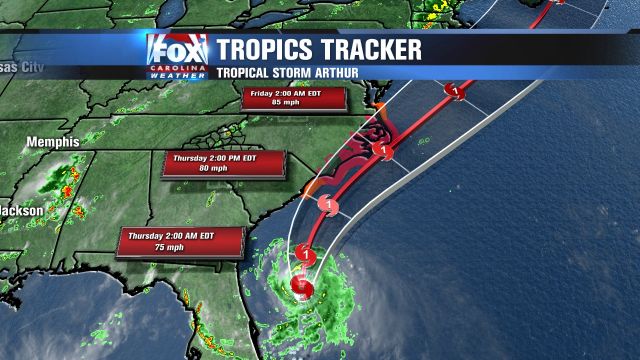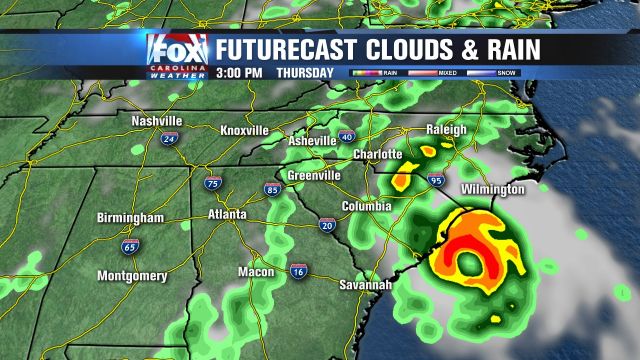 GREENVILLE, SC (FOX Carolina) -
Tropical Storm Arthur is currently moving north at about 7mph. Conditions in the Atlantic will likely allow Arthur to intensify, which will likely allow us to classify it as a Category one Hurricane by Thursday morning. Arthur is expected to make a slight turn to the right and travel along the Carolina Coastlines. I expect the potentially classified Hurricane Arthur to be about 85 miles off the Coast of Georgetown and Myrtle Beach by 2pm Thursday afternoon.
We can expect to see choppy waters, strong rip currents, breezy winds, scattered showers and possible thunderstorms in the Georgetown and Myrtle Beach area Thursday night into Friday Morning. North Carolina will likely see the brunt of Arthur on Friday morning and into the afternoon.
A Tropical Storm Warning is in effect for Georgetown and Myrtle Beach in South Carolina until this weekend. Areas in North Carolina such as Morehead City and Cedar Island are currently under a Hurricane Warning and can see the worst of Arthur.
Luckily for us, Arthur will have little to no effect on the Upstate weather through the Fourth of July. As for Coastal towns like Myrtle Beach, they will likely see a wet beginning to their independence day, but quickly clear things up by early afternoon.